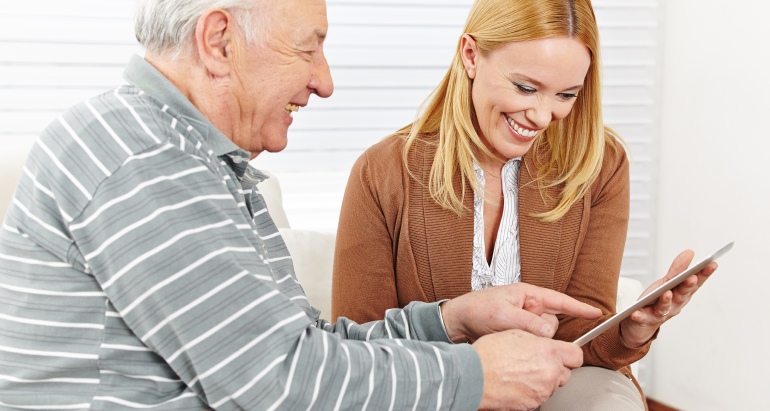 When it comes to marketing your community, your senior living organization's most important tool should be your website. It allows prospects to learn more about you and your offerings from any device, 24/7.
According to the Pew Report, more than 42% of seniors 65 and older own smartphones, and 67% are using the internet regularly, which means it's critical that your website showcase who you are and how you want to be perceived.
To give you an idea of what sort of things you should consider when creating your website, we've put together a list of helpful tips to get you started.
Focus on the residents, not the management
While it's great to know who is leading your organization and what staff perform which functions, it's more important to a potential resident and their family to know what sort of services are available.
Do you use actual residents in your photography? Do you highlight differentiators that are unique to your community? Do you have videos that walk people through your units and communal areas? These are all things to consider when generating content for your site.
Keep current to keep them engaged
If a potential resident goes to your website and sees that you haven't added any new content in over a month, that can be off-putting. If your online community calendar doesn't list any programming, that can come across as a red flag. Moreover, if your social media channels don't have any content, that can mean game over for a new prospect.
While it's crucial from an SEO standpoint to have a steady stream of new and engaging content on your site, it also says a lot about your organization if your website isn't maintained weekly at the minimum. Updating your content shows that you are actively engaged in the continued growth and longevity of your organization.
Simplicity is key
The old school of thought is that your website should house all the information anyone would need on your organization, and that isn't true anymore. People want to be able to quickly find the information they are looking for without having to wade through pages and pages of content.
A few things to bear in mind when building your site is that it should be mobile-friendly, which means it should have a responsive, easy to navigate design. There should also be some sort of visuals to break up text without being too in your face. Lastly, less is more when it comes to your website: include the essential information to entice them to reach out to schedule a tour, send an email, or make a phone call.
You want to craft a website that makes people want to check your organization out. You want to convey a warm and inviting place that potential residents would want to call home and that their caregivers would feel good about them choosing. It's important to portray this image on your website as it is often the first touchpoint someone has with your organization—you don't want it to be their last.
We've built longstanding relationships with top providers and marketed a wide range of services—from independent and assisted living to memory care, hospice, home care and more. Working closely with your team, we'll create a senior living marketing plan that helps your community attract new residents, maintain census and grow its brand. Want to create the best senior living marketing plan for your community?