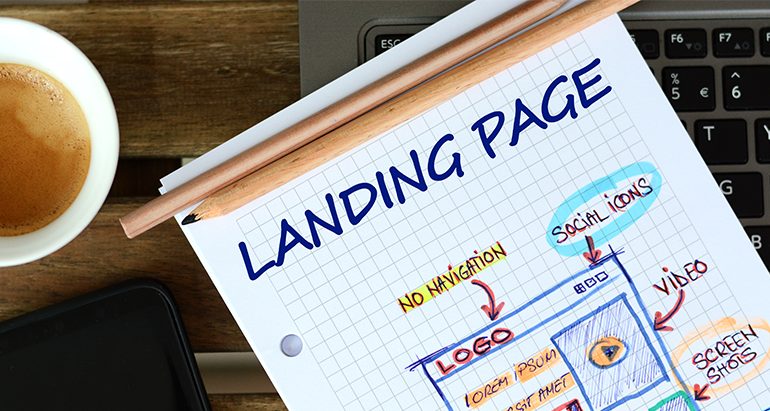 What's the Difference Between a Landing Page and a Splash Page?
By Lindsay Valenty -
Did you know that not all real estate web pages are created equal? It's true.
When discussing landing and splash pages, it's easy to confuse them. Both perform very different ROI purposes, so let's dive into what makes each unique and when you'd want to use either.
Landing Page
Not to be confused with a home page, landing pages are created and customized to guide visitors toward performing a particular call to action. Landing pages are part of a specific campaign or initiative to convert page visitors into leads.
Landing pages can be independent of your main web domain or part of your standard web host.
An example could be that your main website is www.yoursite.com, and the landing page is offer.yoursite.com or something similar.
Landing pages can be as lengthy or stark as needed depending on your call to action. Examples of landing pages include:
• Scheduling a tour
• Signing up for a newsletter
• RSVPing to an open house event
They don't have to be boring, either. Whether hosted on your main domain or not, a good landing page will mimic your site's design with branded logos and imagery. You can make your landing page stand out by incorporating a purposeful message, animation, or video.
Great landing pages should be user-friendly. Generally, a visitor will be redirected to your landing page after completing an action, like clicking on a digital ad, an email link, a search engine result, or social media post.
Landing pages offer data you can use when calculating your ROI, including site entry information, bounce rates, time on page, CTA completions, etc.
Splash Page
On the flip side, a splash page is the first thing you see when you enter a website. Its purpose is to introduce the visitor to your website.
Don't misunderstand: a splash page isn't your website's home page. It is like a virtual business card, like a large pop-up.
You would use a splash page to promote a new property or announce something important (like a lease-up bonus or special rental offer).
Splash pages are short and to the point, but that doesn't mean they can't be effective.
Here are just a few reasons why splash pages are an excellent option for your website:
• Load faster than landing pages
• Faster load time boosts your Google ranking
• Immediately show if your content is relevant to your audience
• Attention-grabbing without having to scroll
• Can be used for immediate feedback
Whether you're looking to convert visitors into leads or entice visitors to stick around and explore, knowing the difference between a landing and a splash page will give you a better idea of what marketing strategy you'd like to use.
With so many new developments going up each month, the competition for renters and buyers is tough. Building, listing and showing just isn't enough. Whether you're a real estate developer putting up student housing, luxury apartments or boutique studios, your new development needs a strong brand identity to stand out from the crowd—and we'll give you an edge over the competition.