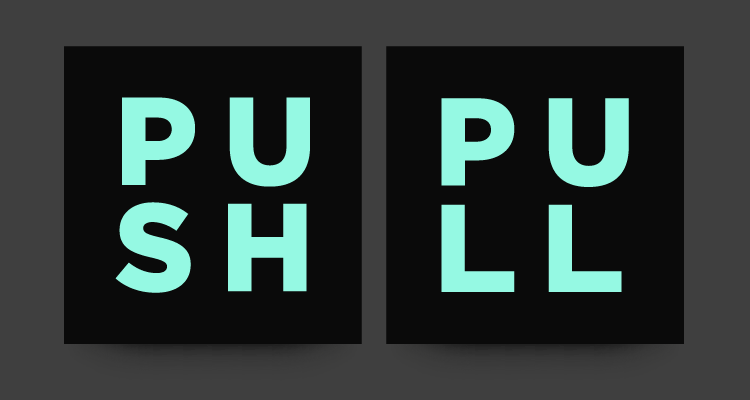 Inbound vs. Outbound Marketing: Tips On When to "Push" or "Pull"
By Imagewërks -
Today, more marketers than ever are turning to inbound marketing to move their brands forward. And why not? Just look at how consumer behavior has changed in the last ten years alone.
Most of us now go online to research and review the products and services we need—regardless of whether we end up buying them them online or in store. And social media platforms have created an organic outlet for the type of far-reaching word-of-mouth promotion companies could once only dream about. Add to that the unprecedented data now available to track preferences, measure trends and tailor messaging, and it's easy to see why inbound—or "pull"—marketing has risen to such prominence.
But while inbound marketing offers great opportunities for long-term brand loyalty and eventual conversions, it has its challenges. Pulling customers to you—usually by providing relevant content online that prospects find organically through search—takes time. And as anyone responsible for quarterly sales numbers can tell you, time is often a luxury marketers don't have.
To generate sales in the short term, most business will still have to "push" messaging to their audience as well—likely via outbound channels like online ads, direct mail, print ads, eblasts, TV spots and outdoor signage.
Deciding which mix of "pushing" and "pulling" works best for you will depend on which stage of the business lifecycle your primary objective currently falls under: awareness, engagement, conversion, or retention.
Push and pull strategies for each stage of your marketing cycle
Awareness
The awareness phase is the very essence of push marketing. You have a new product or service to offer and you need to spread the word to make consumers aware of what you offer. Building awareness is building buzz.
Push: Spread the word about your brand to new audiences through paid advertising, display marketing, direct mail, and pay per click.
Pull: Develop blog content for individuals at the earliest stages of their buying process. They're just beginning to explore solutions to their problem, so it's a prime opportunity for you to make sure their search leads them to discover your brand as a reliable resource.
Engagement
It's not enough for people to know you exist; to be successful, you need them to interact with you. The engagement phase seeks to motivate consumers to interact with your brand, whether that be on social media, through a newsletter, or IRL. Create a community around your company by starting and moderating the conversation.
Push: Broadcast your content through SMS updates, RSS feeds, or email subscriptions. These methods send notifications directly to your end user to prompt engagement without being sought out.
Pull: Publish high-quality downloadable content on your website and promote it through your social media channels. This allows people to find, like, and (hopefully) share your content with their friends, and gives you a form of lead capture for future follow-up.
Conversion:
Conversion is the process of turning a prospective customer into a paying customer. During this critical stage of your customer lifecycle, consumers are ripe for the picking—actively seeking solutions with intent to purchase. The conversion stage is the time to provide content that makes the case for your brand, or incentives to lower the perceived risk of purchase.
Push: Retargeting with pay-per-click ads can reel back in a customer who has come close to making a purchase, only to get distracted or decide to sleep on it before pressing "Submit" on their order.
Pull: For a consumer who's familiar with your brand but hasn't made a purchase yet, a timely email coupon may be the final incentive they need to act. Or perhaps your SEO strategy attracts a shopper who is ready to make a purchase but hasn't discovered your brand yet.
Retention:
You've got money in your pocket and you're feeling pretty good, but you're not done yet! Previous customers are your best source of repeat business and brand ambassadorship.
Give them a reason to keep coming back and to spread the word about your product. Provide an excellent customer service experience, create and share high-quality content, and continually offer incentives to valued customers—discounts, exclusive products, etc. Retention is about building long-term relationships and customer loyalty.
Push: Use traditional outbound channels to share incentives for repeat business. Loyalty programs, volume discounts, and referral offers are all tried and true methods for developing long-term retention and repeat business.
Pull: Forge strong, lasting relationships with your current audience of converted customers. Deliver the content, resources, and of course, products that reaffirm your value and build long-term trust. Make it easy for your audience to find and share these resources through SEO, active social media channels, and an email newsletter.
As your business grows, you'll naturally start focusing your efforts on primarily pull marketing methods. This is a good thing. Inbound tactics result in a 60-62% lower cost per lead than push marketing methods, and SEO leads have nearly an 8x higher conversion rate than outbound ("push") leads. Essentially, you spend less and earn more. Dream come true, right?

But as mentioned earlier, it takes time to build up the authority and brand awareness for pull marketing methods to reach their optimal effectiveness. That's why you should start early and start smart in building your SEO strategy.
Our digital strategy starts with targeted SEO research and elegant, functional web design—and follows through with data-driven email marketing, digital ads, social media and more. Let's get digital.