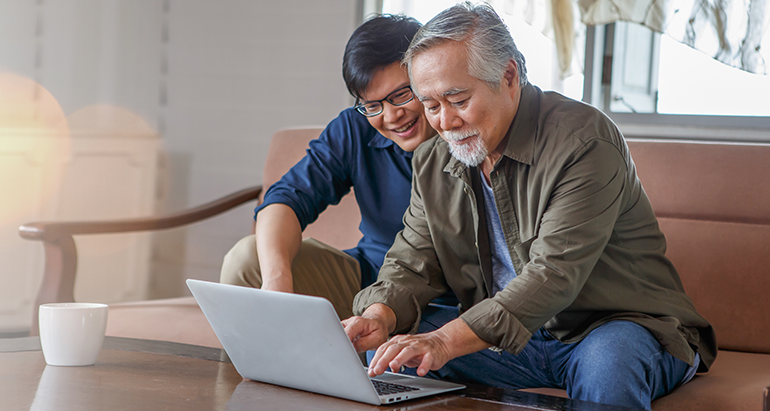 We've previously discussed how important your website is in attracting potential residents and their families.
We've also shared a myriad of ways to ensure that you're easy to find in their searches, whether that's Google My Business or through digital search ad campaigns.
There are several ways to get your content seen digitally, but unless you gear it toward your audience, it won't do you any good. That's where targeted copy comes in.
Let's look into what types of copy you want on your website and your marketing collateral to ensure that you send the right message to the right people.
What's Your Goal?
To lease up your community. Keep that goal in mind as you craft your copy. Here are some basic things to keep in mind:
About Page
Where you place your elevator speech - the why answers to potential resident questions.
Amenities Page
Glimpse into the perks one can expect living in your community.
Pro Tip: If your community offers additional benefits, such as medical services and specialized care, note it.
Floor Plans Page
You don't need a lot of copy on this page: the layouts will speak for themselves.
Blog Posts and News Articles
You're a thought leader in your arena, so post content that would benefit potential residents, such as information about your community members, improvements, or changes, not to mention articles about the benefits of some of the services you provide.
Showcasing to potential residents and their families that you know what you're talking about is a great way to gain and keep trust.
What Do They Need?
Your website is a multi-functional entity that serves not only future residents but current ones as well. As such, you must ensure that your copy caters to each.
Regarding future residents, highlight the benefits of living in your community: what positives do you provide? What family concerns can you address with the care and facilities you offer?
When writing for current residents—keep it simple. They need the bare minimum: phone numbers, how to access specific information, the events calendar, etc.
What are you trying to convey?
People have short attention spans, so you want to keep your information as short and sweet as possible to guarantee they'll read it.
Keep it concise, with the salient points front and center.
What do you offer?
Focus on the benefits that your residents get by living in your community. Do you have a variety of ways for them to stay active? Engaging activities to keep them engaged physically and mentally?
Although noting what facility benefits you offer (ex: walking trails, indoor pool, community room), it's more important for potential residents to know what aids to their health and well-being they can hope to enjoy by choosing to live in your community.
Have you read it?
When crafting copy, it may sound okay at the time that you are writing it, but how does it read?
A great way to test this is to read it out loud. Are there places where you've typed something wrong? Do you have long, run-on sentences that could be condensed and just as effective? Utilizing this step can vastly improve your copy.
Will they find it?
Your copy, no matter how well-written and compelling, is useless if it doesn't appear in a search engine.
You can use many free online tools to check the health of your search engine optimization (SEO).
Some things to consider:
• Link to other relevant content in your copy on your site when applicable.
• Research relevant keywords to include in your copy ahead of time.
• Utilize alt-tags and meta descriptions.
• Name your images in a way that will be easier for them to appear in search.
It's essential to ensure that you consider the decision-makers that you're targeting. Bear in mind that it won't just be the prospective resident you need to reach: you need to convince their adult children as well.
Catering your messaging to them is relatively straightforward using the methods we've already discussed, but if you want to narrow down your audience further, targeting them with Facebook Ads is a proven way to go.
We've built longstanding relationships with top providers and marketed a wide range of services—from independent and assisted living to memory care, hospice, home care and more. Working closely with your team, we'll create a senior living marketing plan that helps your community attract new residents, maintain census and grow its brand. Want to create the best senior living marketing plan for your community?