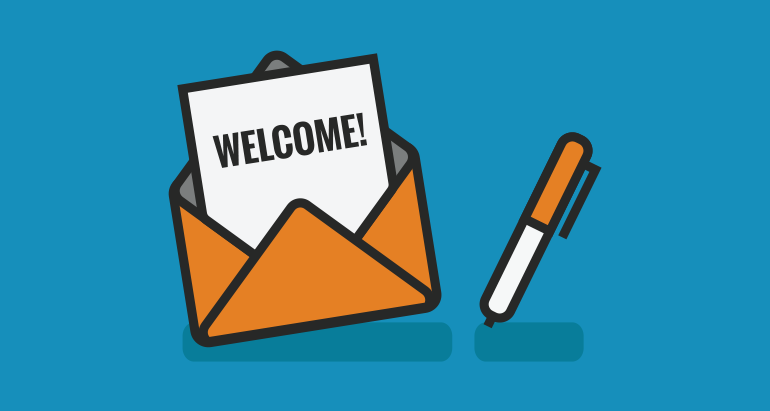 According to Bloomerang, the average retention rate is a measly 30% for first-time donors.
When it comes to your welcome packet, how can you leave a great first impression that will combat those odds? Let's talk about it.
The Power of Thank You
Most online fundraising platforms send out a canned automatic response whenever a digital donation comes through. If possible, do your best to customize what you can so it doesn't sound sterile and cold.
Take the time to send out a personalized thank you message as soon as possible once the donation comes in. Removing the sterile nature of the initial email opens the door for continued communication and contact within your organization.
The Welcome Packet Itself
Sometimes it can be challenging to figure out what to send in a welcome packet without overwhelming your newest donor. As a rule of thumb, here are pieces that you should include:
• donor gift acknowledgment letter
• handwritten thank you letter (can be a pre-printed card but should be personalized)
• copy of your most recent print newsletter
• a reply envelope (should not include another ask)
• a simple gift/brand extender
• business card
Gift Acknowledgment Letter
A warm, simple, and welcoming pre-written and formatted letter personalized with their donor information should include:
• their name
• minimum of 3 thank you's within the copy
• the type of donor they are (first time)
• impact statements from your organization
• an invitation for feedback (referencing the reply envelope)
• reference to your newsletter
• call-to-action (such as following you on social media or subscribing to your email communications)
• tax information
• handwritten signature and thank you message
Pro-Tip: Use "you" language to acknowledge the donor and a few "we" references about your organization. The point of the letter is to recognize THEM, not yourself. If possible, run your letter through a reading checker, such as Hemingway, to make sure the language isn't too high level. For comprehension and scanability, the ideal copy should be between a 6th and 8th-grade reading level.
Handwritten Thank You Note
A simple thank you message leaves a lasting impression and takes just a few minutes to do. Recognizing them by name, thanking them for becoming a new donor, and referencing what else is in the welcome packet reinforces your appreciation for their gift and conveys another CTA by asking them to check out everything you sent.
Newsletter
Although email is the preferred format for communicating with your donors, you can never discount the power of a printed newsletter. You're sending a physical piece that can be viewed multiple times and saved.
One must remember that not everyone who plans to donate to your organization will want to consume your content the same way. Older individuals appreciate receiving printed materials, while many younger donors prefer digital communications. Offering a mix of the two, even if your newsletter gets produced quarterly/bi-yearly/yearly, allows you to reach all of your donors the way they prefer.
Pro Tip: If you feel your newsletter doesn't adequately represent what you do and want to provide a more comprehensive piece, swap it out with a brochure or annual report.
Reply Envelope
There are mixed feelings on the future asks reply envelope for numerous reasons. Not everyone wants to receive another ask in their welcome packet, but knowing the variety of ways they can give is appreciated for some people.
A traditional envelope may include ways to give, such as how much they'd like to provide monthly/quarterly/annually. They may also want to join one of your major donor levels or join one of your societies. Others may wish to give another gift in honor of someone.
Providing your new donor a way to increase their donations in the future, whether via check or by credit card, lets them think about ways they can continue to support your organization and mission.
Brand Extender/Thank You Gift
You don't need to send them something extravagant like a tote bag or a t-shirt: it could even be something to use when working from home. A branded piece, like a pen, car decal, or sticker, is an easy way to keep your organization top-of-mind long after opening your welcome kit.
Business Card
Even though you've already personalized the welcome packet with your signed letter and thank you card, including your business card, it reinforces that this is the start of a relationship, not just a transaction. Providing a way for them to stay in touch with you also shows that you recognize and appreciate their contribution to your organization.
Bonus: if you have an upcoming event, such as a 5K, volunteer opportunity, or a concert, include an invitation. Giving them a tangible way to help out may also appeal to them.
Many people say that a donor isn't a donor until they've made their second gift. Using the steps we outlined today, your welcome kit will not only leave a lasting impression but outline the impact their contributions can have and the importance of philanthropy.
Interested in learning what you can do to keep your donors engaged beyond their first gift? Visit our website to learn how we've helped organizations just like yours develop a strong nonprofit marketing plan—one that utilizes the strength of direct mail, digital and more to build awareness for your cause, attract volunteers and inspire donors.