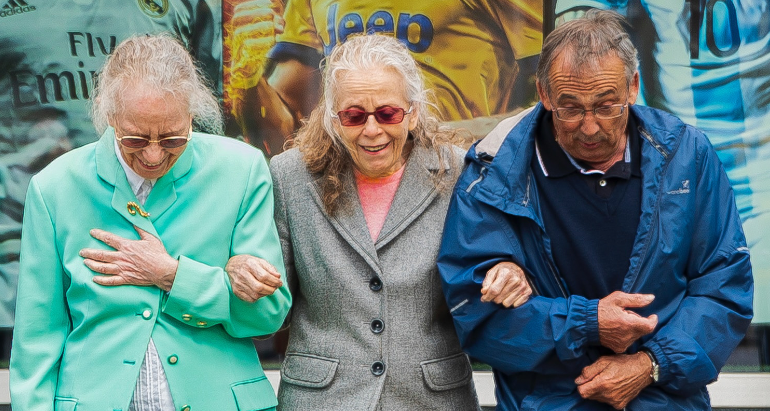 Your community has officially opened its doors, and residents have started to settle into their new accommodations.
Now that the initial lease-up has begun to calm down, it's time to start thinking about how you can continue to reach your leasing goals.

That's where resident referral programs come in.

There are a few easy ways to get a referral program off the ground and off to a great start.
Let your residents know
Whether it's a flyer in their mailbox, personalized email communication, or posters around your communal spaces, letting your residents know that you have a referral program in place is the first step to getting the word out.
Engage your staff
Including your staff in your referral program is smart for a variety of reasons. They may know the people who are most likely to promote your units due to their experiences and improved quality of life.
Asking staff who have an established relationship with your residents seek out referrals generates a personal touch that may make them more likely to reach out to friends and family.
Keep it simple
Your residents shouldn't have to complete a bunch of paperwork or jump through several hoops to refer someone to your property. Keeping the process as simple as possible is key to its success.
To ensure the process is as straightforward as it can be, ask a few of your residents if they would be willing to give it a try and provide their honest feedback. They may offer suggestions to problems in the process that you didn't foresee.
Make the payoff worthwhile
If you are asking your residents to spend the time marketing your community to their friends and family, the incentive should be worth the effort. Not only that, but make sure it's something they would want and actually use.
Some examples could be:
• Rent Credits (1-month free rent)
• Gift Cards (to a grocer or nearby department store)
• Cash or Check
Keep your residents happy
The best referral program in the world won't work if your existing residents aren't happy. It's essential to get feedback from your community on what aspects they love and appreciate about where they live.
Offer incentive programs for renters who provide feedback - if people feel heard, they will be more likely to share the benefits of living in your community.
Continuously engage
Currently, around one million Americans live in some type of senior living community, and that number is expected to double by the year 2030. It's smart to continue to nurture your residents and refine your referral program on an ongoing basis, ensuring you are always offering the best incentives possible.
We've built longstanding relationships with top providers and marketed a wide range of services—from independent and assisted living to memory care, hospice, home care and more. Working closely with your team, we'll create a senior living marketing plan that helps your community attract new residents, maintain census and grow its brand. Want to create the best senior living marketing plan for your community?