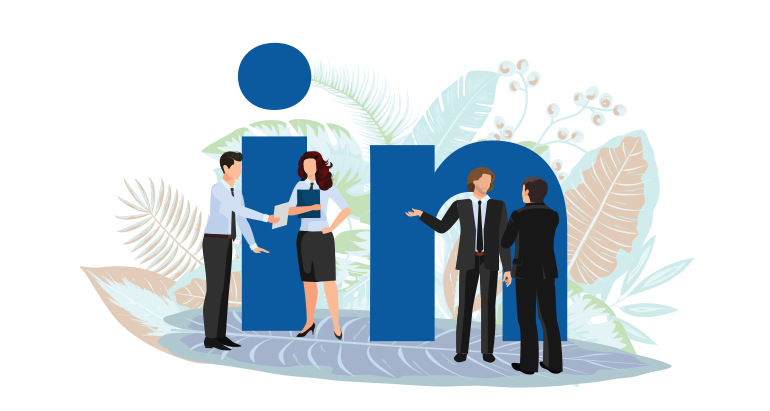 One of the biggest concerns for any business is how to generate leads, but not just any leads—quality ones.
According to Hubspot, studies have shown that LinkedIn is the top paid and organic social channel for B2B businesses. 82% of B2B marketers have found the most success on this platform compared to others.
Unlike other networks, LinkedIn professionals spend time on the platform SPECIFICALLY because they're interested in consuming professional-focused content. So, how can you use this to your advantage? Let's get into it.
Have a strong presence
It is easier said than done, and we get that it will not be overnight.
Ways to utilize your profile would be to share posts from your company's page to your network and messaging that makes the content relevant to them. An example could be:
"[Company name] is continuing to lead the way when it comes to [service]. You can see what I mean in our latest [blog post or company post]."
Post relevant content
You are the thought leaders in your products and services for your company—use that to your advantage.
Sharing different content on your profile and LinkedIn page will keep others interested in what you have to offer, whether blog posts, articles by professionals in your company, news releases, or fun tips/tricks.
Video is one of the best options for keeping your readers engaged. Whenever possible, incorporate it into your content strategy.
Get involved
A great way to get seen more is to join and be active in relevant groups on LinkedIn. Once you are a group member, you can select that group from your audience when you post to share updates with them easily.
Being part of a like-minded group is also a great way to get involved in discussions and learn more about what others are experiencing in the industry. Bounce ideas off one another, share your relevant expertise, and build those relationships—you never know when they might come in handy.
Boost Your Content
We're not saying that you should put money towards everything you post, but if you're sharing something important, like a job posting or a news release, putting even just $50 behind it is a great way to increase engagement.
You can organically share your company page content with a targeted audience or boost your post. The way you do so is simple:
• Under "share with," you can select "targeted audience"
• You can target with a variety of options, such as company size, industry, job function, job seniority, geography, and language preference
• You can also choose if you want to target employees or non-employees
For the targeted audience feature to work, you need to have 100 people in your audience.
Utilize Your Current Connections
Work with existing customers and past clients to get testimonials on what they liked about working with you, or share success stories/case studies (with their permission) on your page. It's important to show, not just tell, how you were able to help someone.
Be consistent
The last one for today is perhaps one of the most important. You can't post once every blue moon and expect your posts to resonate. Even if you only check in a few times a week or for 10 minutes a day, having a consistent and engaging presence will ultimately help you achieve LinkedIn success.
With so many new developments going up each month, the competition for renters and buyers is tough. Building, listing and showing just isn't enough. Whether you're a real estate developer putting up student housing, luxury apartments or boutique studios, your new development needs a strong brand identity to stand out from the crowd—and we'll give you an edge over the competition.