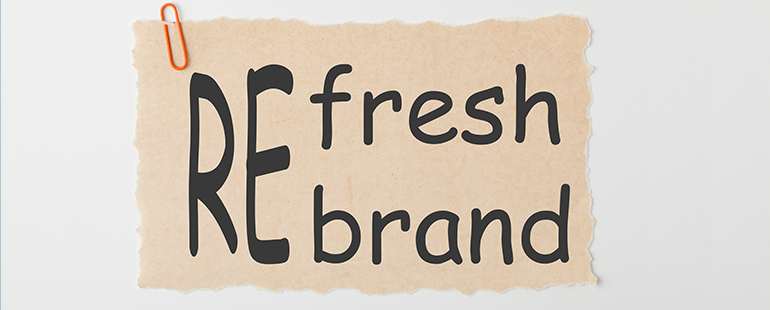 What's the Difference Between a Rebrand and a Refresh?
By Lindsay Valenty -
It's not uncommon for brands to update their logos, typography, and imagery.
There is a lot of talk and debate about whether to refresh or rebrand, but what's the difference? Let's go into it.
Rebranding is when you completely change the look and feel of your brand identity.
Refreshing is when you change elements of an existing design or introduce new features to enhance the current brand identity.
Here's another explanation: a refresh is like painting a room a new color, while a rebrand is completely redoing the whole space.
Both have merit, but when would you choose one over the other? Let's explore.
Refresh
A brand refresh allows you to change your look to reinforce your values, put forth a new perspective, or highlight something new that makes you unique within the market.
It's a reimagining of what your brand is and means. A refresh allows brands to stay relevant while maintaining solid and recognizable iconography.
There is any number of ways that your brand may do a refresh, including:
• Logo update
• New fonts
• Altered color palette
• New brand slogan
• Different writing style
So how often should you do it? There is no absolute rule about how often or little you do it. Timing will differ depending on your brand and your growth/position in your industry.
Here's a quick checklist of things to consider when doing a refresh:
• Conduct market research and competitive analysis
• Update your visual identity
• Create an emotional appeal with your brand messaging
• Conduct an audit of your most important content and collateral pre-rollout
• Map out an implementation plan
Rebrand
We've helped several brands do a refresh, such as Catholic Eldercare and Hasslen Construction (see below), and we also have a great deal of experience working with existing brands as they opt for a complete rebrand.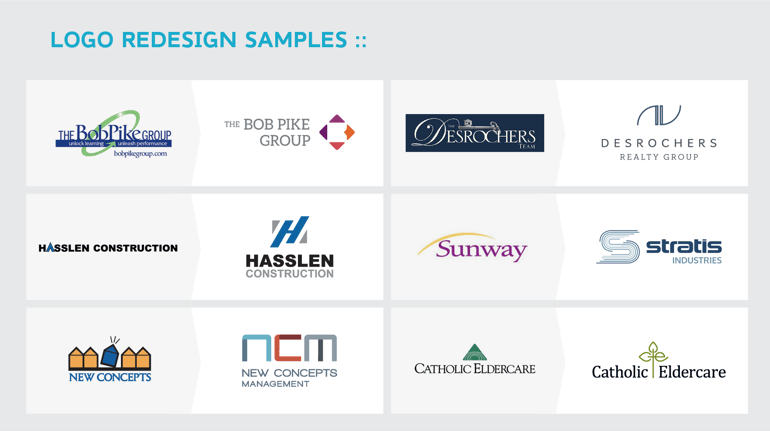 When it comes to a rebrand, you'll want to dive deeper into the core elements that make up who you are, such as:
• Brand positioning
• Brand values
• Brand guidelines
• Mission and vision statements
While these can be expensive and time-consuming, working with an experienced design partner can keep you on the right track with new ideas and a solid strategy.
What questions should you ask yourself as you start down this journey? Here are just a few:
• Are we expanding?
• Is our current brand preventing us from reaching new markets?
• Are there negative connotations surrounding our brand?
• Are we merging or acquiring new companies?
• Are we getting lost in the market?
• Are we connecting with our audience?
It's not uncommon for brands to do a total rebrand every 7-10 years, depending on growth and need.
How to roll out new changes
Regardless of your chosen method, change needs to happen slowly and thoughtfully to ensure that your customers aren't confused.
Have a solid strategy
You know your brand better than anyone, so you'll know when it's time to change. Focus on these four things:
• Preserve your brand's integrity
• Revitalize your business
• Change your image to match the current marketplace
• Reach new customers
Listen to social media feedback
If you're unsure about the changes that your brand is seeking to make (perhaps colors or a font), ask your existing customers. Create polls on social media to engage with your consumers to get their buy-in.
Start slow
Don't spring a completely new look on your customers. Start subtly: with new imagery, colors, a new font, and a slightly revamped logo. It might take you a full year to successfully roll out your new brand/refresh, which is okay.
Our digital strategy starts with targeted SEO research and elegant, functional web design—and follows through with data-driven email marketing, digital ads, social media and more. Let's get digital.