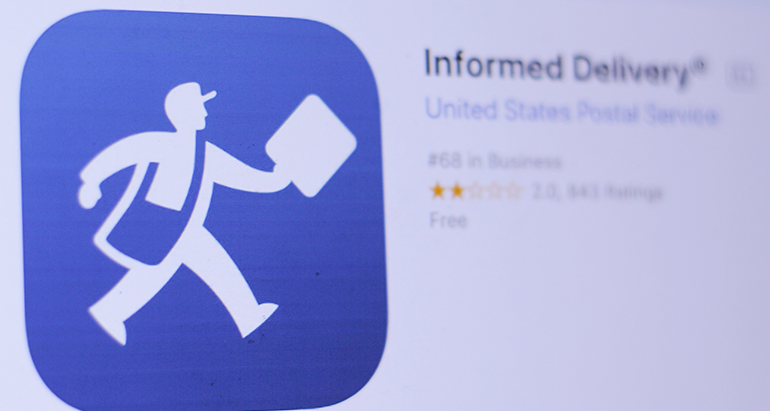 When you order something online from consumer retailers, you know EXACTLY when your item will arrive at your door with email or app notifications.
The United States Postal Service has developed a service to do the same thing with your direct mail. Informed Delivery allows you to preview your mail before it arrives in the mailbox.
Informed Delivery sends you an email (you can also use their app and web dashboard) with grayscale images of the exterior address-side of incoming letter-sized mail and tracking for packages.
Why would fundraisers want to use it?
Informed Delivery is another way to bring your traditional direct mail piece into the digital world. Not only can donors know an appeal request is coming to their mailbox, but they can click on URL links and go straight to your website right from the email. Just another way to get your constituents straight to your donate page.
Informed Delivery is a growing program provided by USPS®, and as of April 2021, more than 37 million users were utilizing this service. Additionally, 2,000 registered mailers completed 90,000 interactive campaigns.
Eligible mail includes:
• First-Class Mail letters, postcards, and flats
• USPS® Marketing Mail letters and flats
• Nonprofit USPS® Marketing Mail letters and flats
What's an interactive informed delivery campaign?
Fundraisers can pay to have full-color images included in the Daily Digest emails that mimic the mail piece and a link so recipients can interact with the offer directly vs. typing it in.
Starting in 2014, Informed Delivery has expanded over the years to include several zip codes. Its omnichannel integrations for advertisers have significantly increased physical and digital impressions.
As we mentioned, utilizing Informed Delivery is an excellent way for nonprofit organizations to enhance the scanned images that their audience is receiving via email. Additionally, integrating a digital link to the content allows marketers to collect valuable ROI information on open and click-through rates.
What are the requirements for Informed Delivery?
You must submit a mailpiece and campaign for review to USPS® that contains the following:
• A Call to Action informing the customer of an offer
• Ride-along images where customers can navigate to the offer
• Live, functioning URL
Mailings with flats must also include the following:
• Representative image closely representing what the customer will receive
• PDF of both sides of the mailpiece
Donors can take advantage of this service by signing up at informeddelivery.usps.com, where they can find additional information on how the program works.
NGOs looking to take advantage of Informed Delivery's business mailers can learn more about this service at usps.com/business/informed-delivery.htm.
Informed Delivery is a game changer when looking to integrate your digital and print efforts seamlessly into one cohesive campaign.
Looking for more ideas on how to increase your fundraising efforts? Sign up for our educational nonprofit email series for more tips, tricks, and ideas.