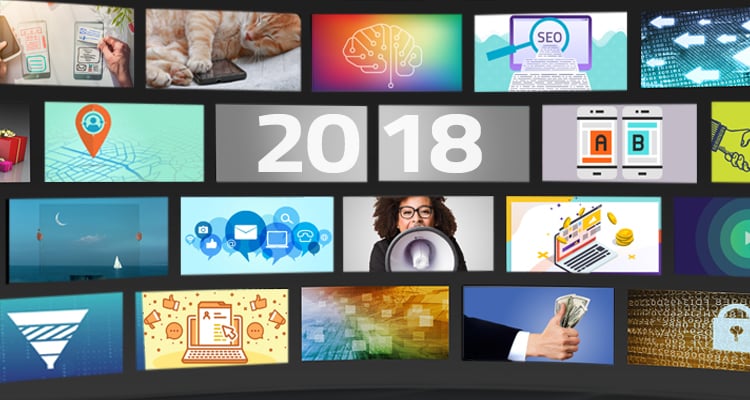 Top 5 Digital Marketing Posts of 2018
By Imagewërks -
As we look ahead and begin planning for the New Year, it's never a bad idea to look back and take stock too.
We can learn a lot about our clients—and where marketing might be headed—by looking at what interested you most in 2018.

With the continued rise of social media and e-commerce as market drivers, it should come as no surprise that our most read blogs focused on some aspect of digital marketing. From responsive web design to integrated inbound/outbound campaigns, most of the tips, tricks and trends we covered are likely to prove just as relevant in 2019—so a refresher might be in order.

Without further ado, here are Imagëwerks Marketing's Top 5 Blog Posts from 2019.

8 Best Practices for Responsive Web Design in 2018
Over 52% of today's global web traffic occurs over mobile devices. It's not enough just to ensure your site fits on smaller screens; it has to function well there too. From navigation to CTAs, we give you the skinny on why, when it comes to responsive web design, size isn't all that matters.

7 Steps to a Successful, Integrated Social Marketing Strategy
It's hard to ignore the importance of social media. After all, most of us use it ourselves nearly every day. But that doesn't mean consumers are abandoning other media channels. In fact, social can have a much more impactful role when combined with your traditional marketing. These 7 steps provide a blueprint for developing an integrated strategy that turns online engagement into real-world results.

3 Senior Living Marketing Trends for 2018
Today, Americans are entering retirement in record numbers—and they're more tech-savvy than ever. That's both an opportunity and a challenge for senior living providers. While communities advance services and amenities to match changing expectations, marketing must also change to meet seniors and their families where they live—not just at home, but online too.

Storyscaping 101: How to Make Customers the Heroes of Your Brand Story
There was a time when products and brands were the only heroes in marketing—swooping in to save the day when customers faced seemingly unsolvable problems. ("Oh, this stubborn mildew!") Storyscaping operates on the assumption that today's customers don't want to be rescued; rather, they look to brands that empower them to be the hero of their own story. Check out the step-by-step Storyscaping approach—complete with infographic—in this popular blog to help you "stop creating ads and start creating worlds."

Inbound vs. Outbound Marketing: Tips On When to "Push" or "Pull"
Inbound marketing has risen to great prominence in the past five years. And for good reason. It builds loyalty—and brands. But "pulling" customers to you via relevant online content and organic search takes time—a luxury most marketers don't have. For real-time results, outbound marketing, or "push," marketing is still a must. This well-read post offers tips on finding just the right mix of "push" and "pull" to fit various stages of your consumer cycle—from awareness and engagement to conversion and retention.
Our digital strategy starts with targeted SEO research and elegant, functional web design—and follows through with data-driven email marketing, digital ads, social media and more. We'll work closely with you to build a web presence that amplifies your brand, attracts your ideal audience and boosts conversions. Let's get digital.