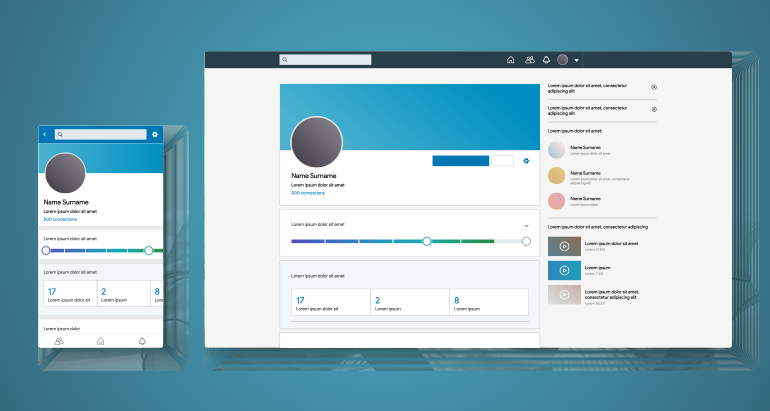 LinkedIn is a powerful tool when it comes to lead generation.
An inventive and far-reaching way to engage with your current connections and ones you have yet to meet is through newsletters.
What are they?
According to LinkedIn's support center, a newsletter is a set of regularly published articles on LinkedIn, typically about a specific topic. You can create a newsletter as yourself or as a LinkedIn Page.
Why should I use it?
If you want to leverage yourself as a thought leader in a particular area, say direct mail or branding, a LinkedIn newsletter is the way to go.
It allows you to boost your brand awareness as it gains engagement, builds trust, positions you as an authority on the topic you're discussing, and helps generate leads.
LinkedIn newsletters aren't just limited to your immediate connections. Let's go into what we mean.
How they work
Utilizing a newsletter on LinkedIn allows you to engage with your audience immediately, not to mention it's easy to invite your connections and followers to subscribe.
Each time you publish something new, email, push, and in-app notifications are sent to all subscribers, letting them know that you've posted new content.
Newsletters come with built-in analytics, which allows you to see first-hand what content is resonating with your followers and what isn't. Analytics will enable you to fine-tune your strategy to ensure you always post the most relevant content to your readers.
Another perk? Newsletters are discoverable across the platform. That means that if someone searches for one of the topics you cover, such as branding, your newsletter will pop up, allowing them to subscribe.
Newsletters are also shareable, allowing followers to share your post on their feeds.
Once someone has subscribed, as the author, you're able to see the following:
• Their name
• Profile photo
• Job title
• Headline
Who can use it?
You can currently use the newsletter feature through Creator Mode.
There are three criteria that you must meet to gain newsletter access in creator mode:
• Have more than 150 followers and/or connections as a member or a page
• Have a history of sharing original content to ensure you can adequately utilize the service
• Have a good standing record by abiding by the Professional Community Policies set in place by LinkedIn
How to set up your newsletter
There are several best practices that you can use for setting up an engaging and effective newsletter. You can see a complete list on LinkedIn, but here are some key takeaways you should consider when coming up with the concept of your newsletter.
• Pick a name that conveys what your newsletter will entail
• Create SEO-friendly headlines that let your audience know what they'll be reading
• When sharing your newsletter, include something like a poll to increase engagement
• Publish on a consistent schedule
• Keep it short, clean, and compelling
• Include a call to action
• Include the "Follow" button on your profile vs. using "Connect"
As you can see, when it comes to making new connections, gaining new leads, and positioning yourself as a valuable resource, LinkedIn newsletters are a powerful tool.
Our digital strategy starts with targeted SEO research and elegant, functional web design—and follows through with data-driven email marketing, digital ads, social media and more. Get more from your digital marketing.