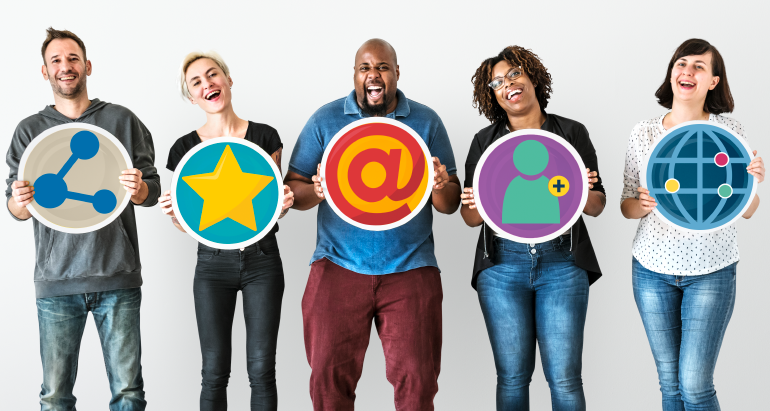 Having a website is just the first step when it comes to getting found online.
As we mentioned in the first part of this two-part series, we discussed why a website is the cornerstone of your digital marketing strategy.
In part two of this series, we'll discuss how social media and reporting can take your content strategies to the next level.
Be On Social
If you want to have a successful business, you need to be on at least one social platform—3.2 billion people are on social media after all.
Why is it so important? Reports show that consumers are more likely to trust a company/brand if they have a social media presence.
It's also a great way to communicate with your customers and hear real-time how people view your brand and respond if/when it makes sense to continue to grow that trust.
Stay Active
Having content is great, but it's essential to stay active by regularly sharing content and engaging with your followers. Be sure you're following back when/where it makes sense, and take part in conversations that pertain to your specialties to convey your knowledge and establish yourself as a thought leader.
Nurture Your Relationships
A great way to continue to increase your online presence is to develop and grow relationships with creators in the same industry. Writers, YouTube reviewers, and others in the same space can help you grow your audience with influencer marketing.
Influencer marketing is an organic way to spread the word about your brand/business with the help of others, usually, someone active on social media who has a large following/audience.
Create and Grow Your Email List
Many companies can stay top-of-mind with their customer base thanks to email marketing. Depending on your services, you can choose to reach out daily, weekly, or monthly.
Having a curated email list offers other benefits as well. You can add clients to workflows tailored to their unique needs, further ensuring that the messaging you're using will be effective and resonate with your audience.
Set Up an Automation Process
As you continue to create new content, setting up an automated schedule to keep your consumers engaged on social and via email is a great trick.
CMS tools such as HubSpot allow you to schedule your content as often, or as little, as you like, not to mention you can create workflows to keep your customers engaged long after they've left your website.
Advertise Online
You don't have to spend thousands of dollars each month on digital advertising, but running brand awareness campaigns from time to time are a great way to grow your audience.
Depending on where you're active, you can choose to do a simple search or display ad on Google, boost social posts on Facebook or Instagram. If you're on LinkedIn, you can run lead generation campaigns to your target audience as well.
Run Reports and Check Them
Using Google Analytics and social media metrics allows you to see how effective your marketing efforts are.
Knowing what's working and what's not will allow you to decide if you want to advertise and how you want to spend your ad dollars. If you're running a campaign and not getting any traction, reworking the content or stopping the campaign to take another approach will help you zero in on what works.