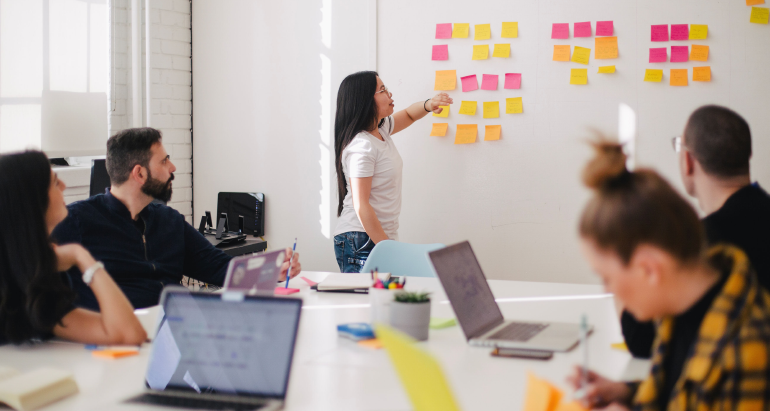 Digital marketing is something that every business, regardless of the market, needs to utilize to stay relevant in today's economy.
That said, not everyone has the budget, or steady workflow, to justify hiring an in-house designer to manage all of their digital efforts.
On the other hand, depending on the type of work you need, utilizing a creative agency may be just as - if not more - cost-prohibitive. It depends on your needs.
In this post, we'll look at the pros and cons of each so you can decide for yourself which option works best for your business and budget.
In-House Team
In-house designers focus exclusively on the company they work for, which means you know they have the tools and resources readily available to do their job. They're also available for those last-minute "hey, I need this" types of situations that can crop up from time to time without waiting for a bid. They also know your company, its culture, and what it takes to your messaging consistent across a multitude of platforms.
Other pros to having an in-house team include:
Live Your Culture and Own It
When you have an internal creative team, they feel a sense of responsibility towards ensuring that your company and its brand comes across as it should on all platforms. They also have an in-depth understanding of your business, so working on new projects is easier for them compared to getting an external agency up-to-speed.
Maintain a Team Mentality
With an in-house designer, it is helpful to have more than one. Marketing should never be a solo act: even if it's only a team of two, having someone else to bounce ideas with is preferable over the alternative.
Now that we've covered the benefits of having an in-house team let's go over some cons.
Less Creative Challenges
As your in-house team learns your company's culture and operations, a large amount of their time will include churning out the same sort of branded messages. Without a lot of challenges, a designer can get bored and less innovative with their work.
Less Time for More Work
Not all in-house creatives come with knowledge of how to do video, social media, graphic design, AND websites. If you have a small in-house team but have a lot of projects that fall outside their wheelhouse, you may end up spending more money - and time - training them rather than using an outside source.
Creative Agency
Creative agencies usually work with a variety of clients that offer services in a variety of industries, so they have to reinvent the type of work they produce regularly. Being able to create content in a variety of styles, and even mediums, allows them to utilize a continuous stream of innovative ideas. This principle is one of the core reasons why you would want to consider hiring a creative agency.
Other pros to working with a creative agency include:
You have flexibility with budget
When it comes to working with an agency, you're able to get an estimate of work so you can decide if what they propose is right for you (and your budget). You always have the option to scale back or increase creative and don't have to worry about letting an in-house person go if the income isn't right. You also don't have to worry about paying for things like benefits, office space, training, etc. when working with an agency, which can offer cost-savings.
Quick turn-around on projects
Sometimes you have creative needs come up that need to be turned around quickly, which can be difficult if you only have one designer on staff. With an agency, there are usually several designers on staff who can ensure the work that comes in gets delivered on time. Even if you only turn to an agency in times of urgency, knowing that the resource is available is a massive relief for companies with limited designers on staff.
Now that we've covered the benefits of working with an agency let's go over some cons.
Meetings Upon Meetings
Agencies work with a multitude of clients, and it takes time to get a new team up to speed on who you are and how you market yourself, just like it would with a new employee. Depending on how much information the creative agency needs to get started with your project, it might make sense to keep it in-house to save time.
No Guarantee of Dedicated Creative
When you're working with an internal team, you know with 100% certainty that their time is devoted to the company and its creative objectives. A creative agency cannot guarantee that one designer will be able to be dedicated to your projects from one day to the next. Schedules and jobs get shifted, and there are times when one designer will start a project, and another will finish it. If it's important to you that you have one central point of contact from start to finish, an agency may not be the best fit for you.
So what's the best answer?
If you have the means, a blended approach of both in-house AND creative agency is a great way to ensure your content is always fresh without sacrificing consistency. Being able to get new ideas, and give your branded work a facelift, is a great way to stay relevant in an ever-changing landscape. By partnering with an agency, you can hire outside help for work your in-house team either doesn't specialize in or doesn't have time to execute correctly.
Imagewërks is a brand marketing agency based just outside the Twin Cities. We help clients build brands and drive digital engagement through smart strategy, inspired design and targeted content. And with over 30 years in the biz, we know a thing or two about delivering results. We like to think our wërk speaks for itself.