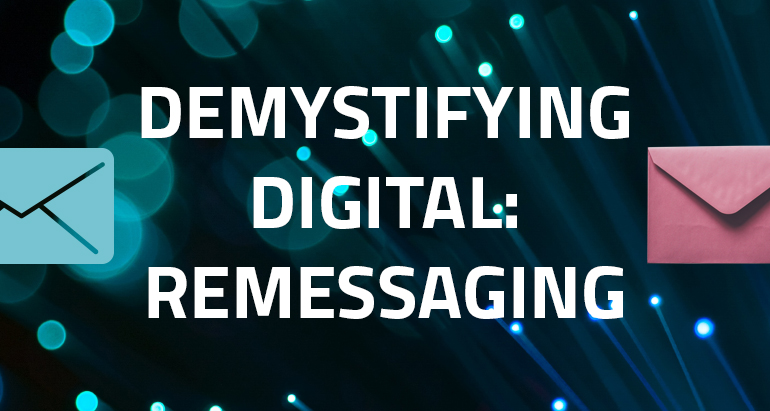 Retargeting, or Remessaging, is a term that is thrown around in digital as something you need to do to ensure marketing success – but what is it?
In our "Demystifying Digital" series, we're going to discuss a variety of digital marketing tactics and describe what they are, how they work, and how you can use them in your current and future digital marketing ventures.
This month we're going to discuss Remessaging and Postal Append.
What is Remessaging?
Remessaging is a digital marketing tactic that incorporates display ads that target people who recently visited and left your website without converting. Using this method, brands can entice them to come back with product reminders, discounts, personalized messages, and lists of services.

Types of Remessaging
Pixel-Based
Pixels are tracking codes that incorporate into your site that follow visitors' patterns and behaviors on your website.

List-Based
List-based Remessaging incorporates a database, such as contact information from a CRM or email list, to reach out to contacts.


Why You Want to Remessage & How to Do It
Statistics show that 70% of website visitors who have received a form of retargeting (or Remessaging) are more likely to convert than those that aren't.

The types of messaging you use to convert site visitors are essential. You want to give them a reason to click on your display ad or go back to your website. Here are a couple of options you can consider:
If the visitor has read one of your blog posts, offer them more free content such as an e-book, white paper, or checklist that covers the same material. This method is crucial if you're targeting B2B clients. Research shows that 78% of B2B buyers consume three or more pieces of relevant content before even starting a conversation with a sales representative.

Recent studies also show that 97% of consumers want a deal when they shop, and 92% admitted that they are always looking for them. Your most pressing CTA should be a promotion or special offer that they will find irresistible.
Remessaging is only a piece of the puzzle – another way to engage your lost customers is through Postal Append.


What is Postal Append?
With postal append, we use reverse IP address lookup to narrow down the location of your lost customers to obtain their name and postal address.
Why You Want to Use Postal Append
There are three good reasons why you'd want to incorporate this practice into your digital marketing strategy.
It Fills in The Blanks
With Postal Append, we're able to take CRM lists of names & email addresses and ensure we're adding the correct mailing address to your prospects.

Build Your List
Grow your list by asking for less information in lead generation forms, such as their name and email address, then use postal append to fill in the blanks.

Leverage Your Direct Mail
Emails can easily be ignored or deleted, but direct mail stands out. A surprising number of people are more likely to open a direct mail piece than an email. With Postal Append, we use this information to our advantage and send out targeted direct mail pieces to get those lost visitors back.
Our digital strategy starts with targeted SEO research and elegant, functional web design—and follows through with data-driven email marketing, digital ads, social media and more. Let's get digital.