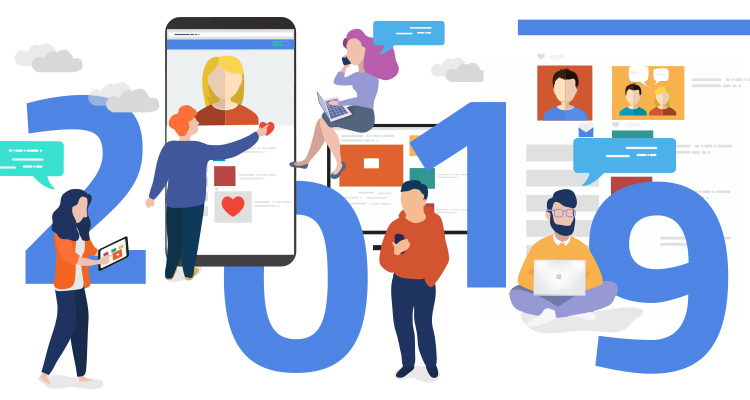 Top 4 Digital Marketing Trends of 2019
By Imagewërks -
In the digital marketing world, it was anticipated influencer marketing, artificial intelligence and professional video would all become prioritized initiatives in 2018.
With the new year around the corner, marketers are looking for new initiatives to stand out from the crowd in 2019.
Find the trends that are expected to grow in popularity in 2019 below:
1. Voice Marketing
Did you know? By 2020, 50% of all searches will be voice searches, according to comScore. Products like Apple Siri, Amazon Alexa, Google Home and more are filling up homes around the nation.
With the advanced technology and constant improvements to their understanding of human speech, people are leaning on voice search more and more. Whether you're walking around looking for restaurants near you or at home wondering what the weather is, people are asking their devices by talking rather than typing.
As marketers, it's important to adapt your digital marketing strategy to the ever-changing world around us. It's obvious voice search is quickly taking over regular search so you need to adjust your strategy to improve your SEO rankings. Try thinking about the difference between when someone asks a question rather than types it. Now, update your SEO to accommodate the difference.
2. Micro-Moments
Adults in the United States spent an average of 3 hours and 35 minutes per day on mobile devices in 2018, an annual increase of more than 11 minutes. By 2019, mobile will surpass TV as the medium attracting the most minutes in the U.S., according to eMarketer.
Micro-moments are times in our lives when we turn to technology to learn something about what we need as quickly as possible. Because of this, marketers need to rethink the way they target their audience. Consumers are no longer scrolling for hours but rather quickly using apps or the internet to find something and then logging off. It's important to capture your audience's attention in those crucial micro-moments.
According to Think with Google,
"…most people check their phones 150 times a day. Pair that with another stat that says users spend 177 minutes on their phones per day, and you get a pretty fascinating reality: mobile sessions that average a mere one minute and 10 seconds long, dozens and dozens of times per day."
3. Social Media Stories
Staying up to date on social media trends can be a tough task for companies. However, it's almost essential in the digital marketing world.
There are 3.196 billion global social media users, which equates to 42% market penetration, according to We Are Social. With a statistic like that, it's hard to ignore the importance and value of social media.
One of the growing trends is social media stories. These first started with Snapchat "My Story" then stories quickly moved to Facebook and Instagram as well. Whether it's a sponsored story on Snapchat or an organic Instagram story, it's important for your company to join the trend and get your voice, brand and products out there for the world to see and ultimately buy.
4. Chatbots
Customer service can make or break a business. However, the way we used to think of customer service is no longer the same as what is offered today. With the evolution of chatbots, the industry has changed dramatically.
While hiring customer service employees can get very expensive and time-consuming, chatbots can work round-the-clock. With supreme customer engagement, chatbots can have human-like conversations with you, solve problems and answer questions almost instantaneously.
Improving your reputation through customer service can improve your business' ROI unbelievably. Consumers today want to be heard and want you to answer their questions, concerns and complaints quickly. Use chatbots to do just that!
Our digital strategy starts with targeted SEO research and elegant, functional web design—and follows through with data-driven email marketing, digital ads, social media and more. Let's get digital.