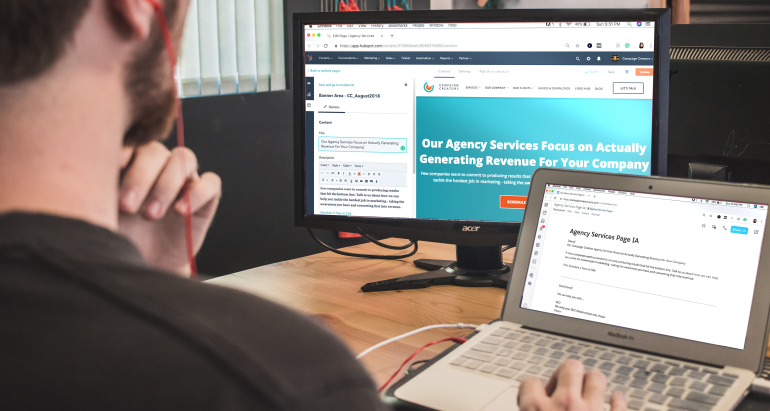 Launching a website can seem like a daunting task, but it doesn't have to be.
Chances are you already have everything you need to get started - it's just a matter of determining the most effective way to portray your company and your brand to your customers.
In this blog post, we'll go over ways to ensure your website starts strong and leaves a lasting impression.
Unforgettable User Experience
First impressions are essential, so you want to make sure that yours counts. There are a variety of ways that you can utilize your UX design to generate a seamless experience for your customers.
Follow this one simple rule: don't be afraid of white space. White space is ideal for your website for a variety of reasons:
• it helps guide the eye from one element to the next
• establishes a visual hierarchy
• improves scannability
• simplifies your design
Creating a website that is as easy to read as it is to navigate is a great way to ensure your brand stands out in more ways than one.
Metrics Matter
Knowing where people are going and how they are getting there is just as important as creating content when it comes to your website. If they can't find what they want, how can you market to them?
Google Analytics is a great tool that all websites should utilize to help you get a complete idea of how your website is performing.
Analytics can offer you a variety of information, including:
• how people are finding your website
• what pages they are hitting most
• how much time they spend on your site
• what pages they exit from
• if they are converting with your content
Knowing which pages are performing well, and which could use a little help, is essential for ensuring you keep your content fresh and relevant for your audience.
Content is King
The more content you can create, the better when it comes to SEO. Search engines crawl websites 24/7, so if you want to stay top-of-mind, you must update your site regularly.
A simple way to generate ongoing content is to maintain a blog. Some benefits to this include:
• being able to describe your offerings without an in-your-face sales pitch
• create a sense of trust and rapport with your customers
• set yourself up as a thought leader in your field
• build off of existing marketing materials, such as direct mail campaigns
Bonus: use analytics to determine which articles are garnering the most engagement and repurpose them in the future.
Our digital strategy starts with targeted SEO research and elegant, functional web design—and follows through with data-driven email marketing, digital ads, social media and more. We'll work closely with you to build a web presence that amplifies your brand, attracts your ideal audience and boosts conversions. Let's get digital.