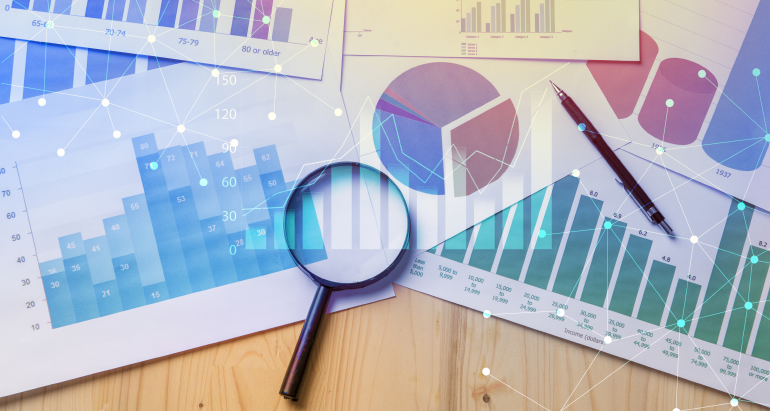 8 Ways to Effectively Use Big Data in a Content Marketing Strategy
By Guest Blog -
Content marketing has become an integral part of any business's marketing strategy.
It is the content marketer's responsibility to curate content that both engages and connects the audience while also educating them on what they need to make a purchasing decision.
Having the right content marketing strategy in place can propel your business to greater heights. Marketers are continually finding ways to be on top of their content marketing game by looking at patterns and focusing on the latest trends.
Any successful content marketing strategy should be utilizing big data, as the two can go hand-in-hand to achieve the greatest success. The term 'big data' has only recently started to gain traction, and there's been a growing need for data analysts and scientists.
What is Big Data?
Primarily, the term 'big data' refers to the enormous amounts of data produced around the world. It refers to all data: ranging from audio to images, videos, information, and more. Having an effective big data system involves being able to manage, analyze, and store these massive amounts of information.
If you think about 'big data' in regards to content marketing, we're talking about all the content produced on social media, such as video content on YouTube or tweets on Twitter.
With all this amount of data coming from both customers and prospects at a rapid rate, you should be utilizing this information to tweak and improve your content marketing strategy. Use big data right, and you'll be on your way to better understanding your audience, discovering actionable insights, and accurately measuring success.
Do your research first
If it's your first time trying to use data in a content marketing strategy, it can be overwhelming due to the massive amounts of information available. Developing relevant content can also be time-consuming. Hence, before trying to jump right into it, start by doing your research first.
You'd want to define objectives and start with a plan so that customers will want to continue to consume your content and keep coming back for more. Know what problems your content marketing strategy is trying to solve, and ask yourself key questions such as the below:
• What are the goals you'd like to achieve for your content marketing strategy?
• What drives both your customers and prospects in the way they engage or consume your content?
• Which content appeals the most to your customers and prospects?
• Who's your target audience, and what drives them?
Once you're able to hone in on what you'd like to focus on and achieve, it's much easier to figure out how you'd like to use big data to make your strategy more effective.
Build Awareness
Many businesses use data in their content marketing strategy to help build awareness. If building awareness is one of the top goals that you'd like your business to achieve, you'll want to focus on metrics that help with that.
Metrics worth taking a look at include:
• Traffic to your website
• How often your brand gets searched
• Social media related metrics (your followers, shares, mentions, influencer mentions, etc.)
• If other sites are linking your content
• Visibility of your brand, content, social media, etc.
With various tools that are available on the internet, such as HootSuite, Google Analytics, Mention, and more, you can track these metrics. It takes time to build awareness, and analyzing the data is crucial to figuring out what you need to do to improve your content marketing strategy. With this knowledge, you'll be able to create content that's catered towards your target audience and help to increase brand awareness effectively.


Adjusting based on your audience's behavior
Big data can help you in figuring out what content appeals to your audience the most. Without analyzing your data, you could be spending copious amounts of time creating content that doesn't resonate with your audience. Instead, utilize some of the tools available online to help with your curation.
Some of the most popular tools that can help you include:
• BuzzSumo (showcases what content within your industry is trending, doing better than others, and what the social engagements are)
• Google Trends (tells you what's the popular search terms at the moment, historically what's popular and at what times of the year)
With this data, you'll be able to craft content that resonates with your audience, which in turn will generate both leads as well as traffic.


Produce engaging content
With big data on the rise, consumers are developing a preference for statistics. There is an inclination for consumers to purchase from brands that have the analytics to back up their claims. Hence, businesses have started incorporating data into their content – also known as data journalism.
It's essential, however, not to create content that's dry and disengaging. Even though data usually consists of a bunch of numbers, you'll want to keep the human touch and inject a creative flair into it.
If you're using a combination of data along with storytelling and the right content marketing methods, the content produced is far more engaging. It will also help influence the consumer's purchasing decisions. If writing is not your forte, there are many reputable websites available that you can consider delegating content creation to.
One of the most popular ways that businesses incorporate data is through infographics shared on various channels, such as Instagram and LinkedIn.


Driving Conversions
On its own, content marketing already helps to drive conversions and speed up the buyer's journey. If your goal is to drive conversions, you'll want to have data that shows how long a prospect remains at a given stage, along with what interests them the most and the least.
In addition to web analytics, this data can also come from email marketing as well as marketing automation platforms. With this data, you'll know what content to feed your prospects during various points of the buyer's journey, and give you a clearer idea of the effectiveness of your content marketing strategy.


Retain customers
While building a customer base is crucial, retaining customers is just as important. After all, it's more expensive and time-consuming to acquire a new customer than retain one. Content marketing can help keep customers by creating loyal subscribers and make customer relationships more successful.
With big data, you can evaluate metrics such as click-through rates, time on your website, and overall satisfaction. This information will give you a better idea of why customers are leaving your site in the first place. You can also figure out why customers are canceling their subscription and how you can go about improving either customer service or user experience to reduce that.
Measure different channels
One of the biggest mistakes made with big data is only measuring it on your content site. As we know, content marketing covers a variety of channels, from your website to social media. To effectively engage your audience, you'll want to track every avenue that's important to them.
There's a high probability that your audience would also prefer different content depending on the channel that they're using. Those on Facebook, for example, would prefer a different kind of content than those on LinkedIn. By measuring the behavior on different channels, you'd be better able to curate content that appeals to those individuals and adjust your content strategy accordingly.


Make improvements
Content marketing helps to drive goals: that's why additional efforts in understanding your audience, creating content specifically for them, and converting them into customers is needed.
To differentiate yourself from competitors, it's crucial that you continuously tweak your content marketing strategy utilizing data that you've gathered. Take a look at key metrics that can help with determining engagement, set some goals in Google Analytics, and create reports to compare your metrics from previous months. If you don't regularly make improvements, you'll eventually be left behind, and your customers will be won over by fellow competitors.
Conclusion
Big data can do wonders for your content marketing strategy. While it can help with planning your strategy to target the appropriate audience, it also provides valuable insights that you could miss without it.
With the number of tools available on the market, it's also incredibly easy for you to measure your data. Gone are the days where you need to sift through numbers and pages to get what you need. Now, you have to identify the applications you'd like to use, and you'll get the information that you require at the click of a button.
With big data at your business's fingertips, there's no reason why you shouldn't be harnessing its power to grow and improve your content marketing strategy.
Our digital strategy starts with targeted SEO research and elegant, functional web design—and follows through with data-driven email marketing, digital ads, social media and more. Let's get digital.
***
Daniela McVicker is a blogger with rich experience in writing about UX design, content planning, and digital marketing. Currently, she is the chief contributor at EssayGuard where she helps individuals and organizations improve their web content writing, design, and planning skills. Her posts are always packed with examples and actionable content that readers can put straight into the action.